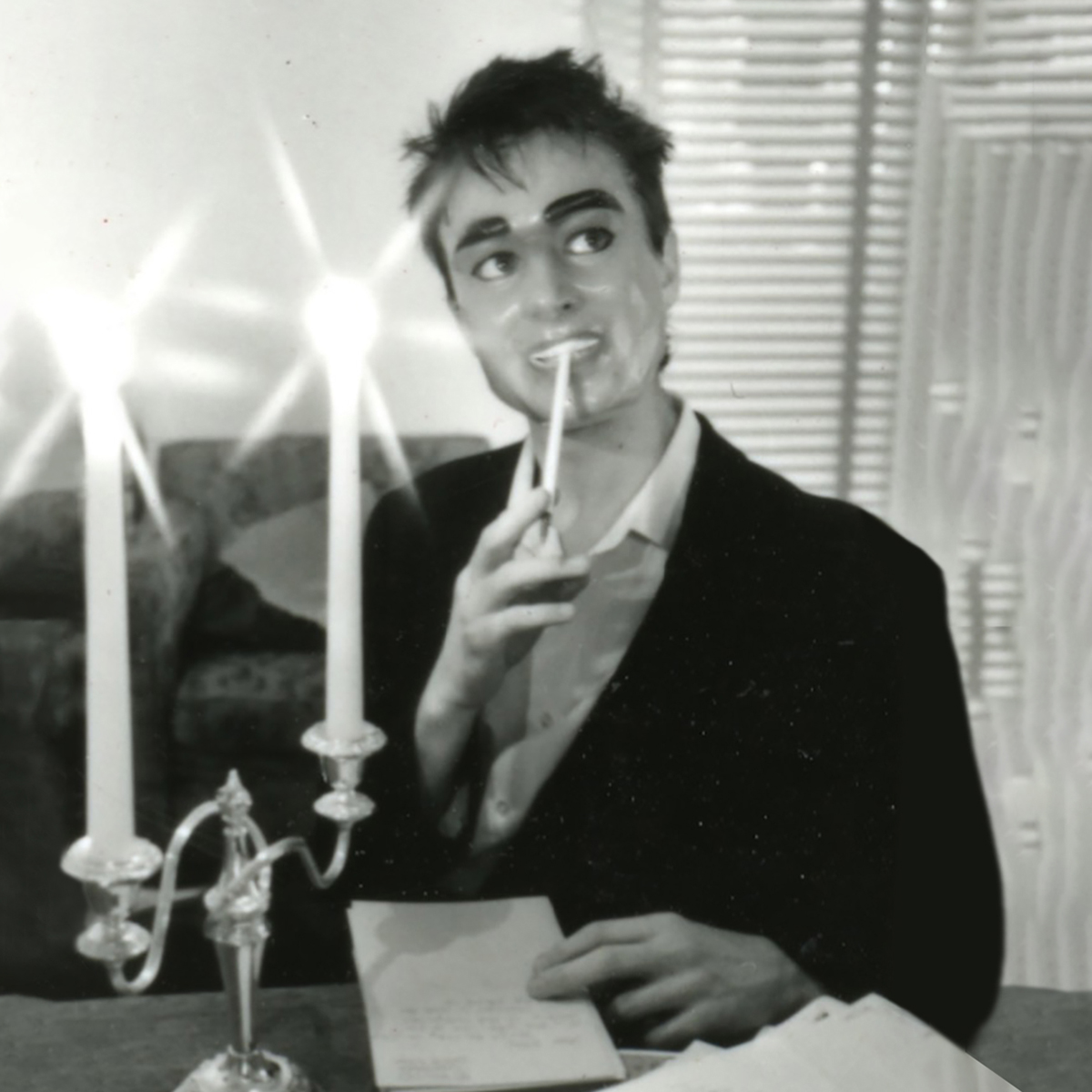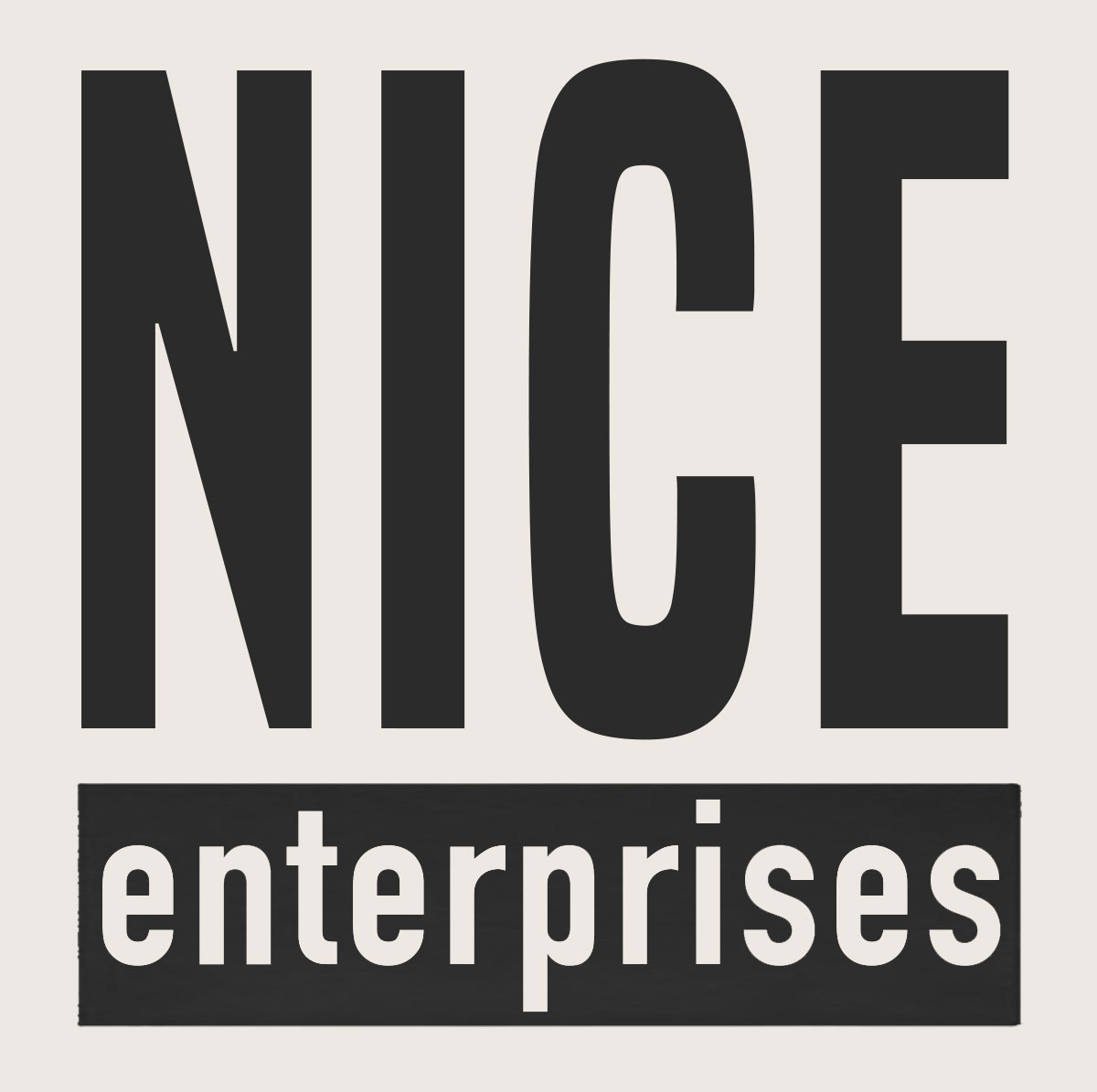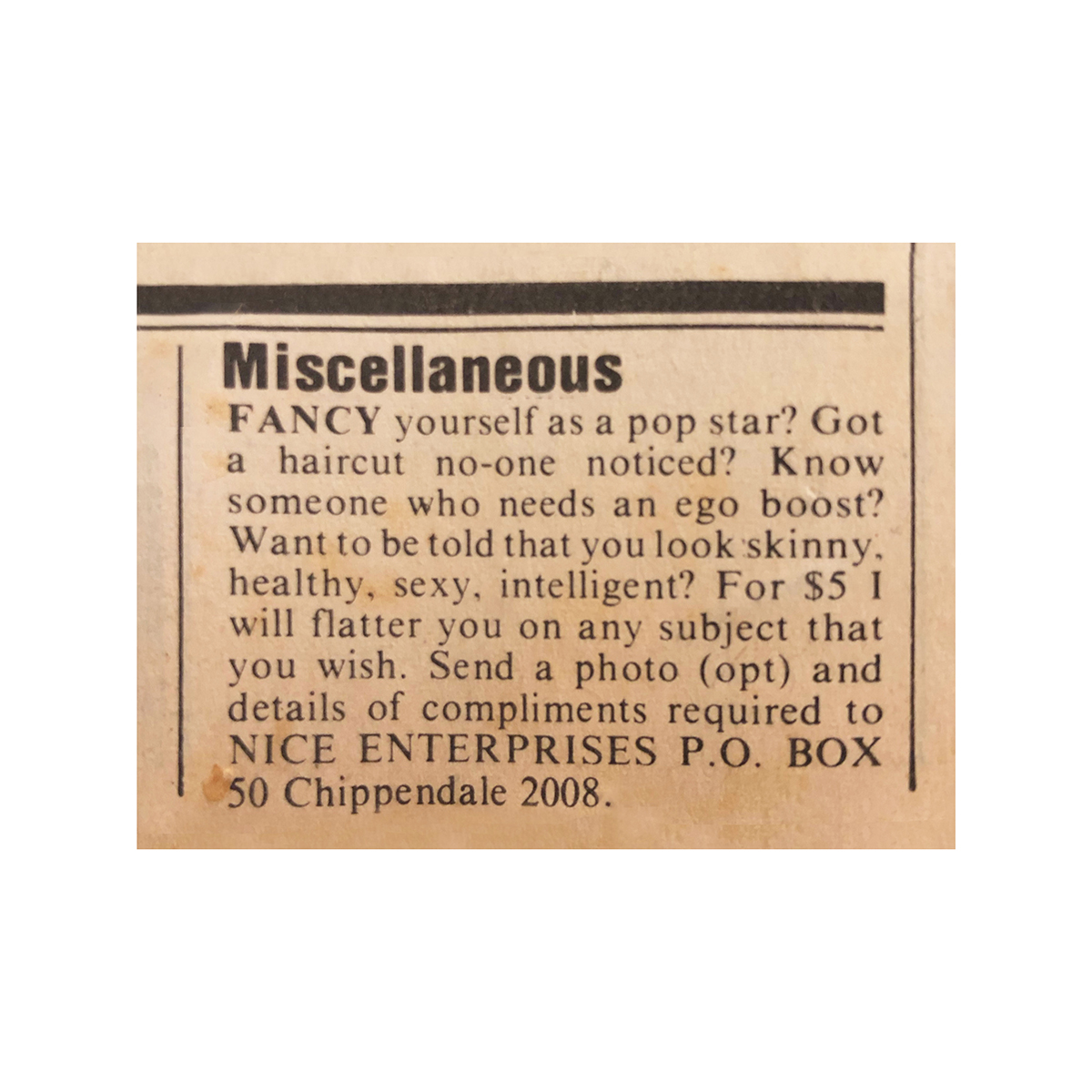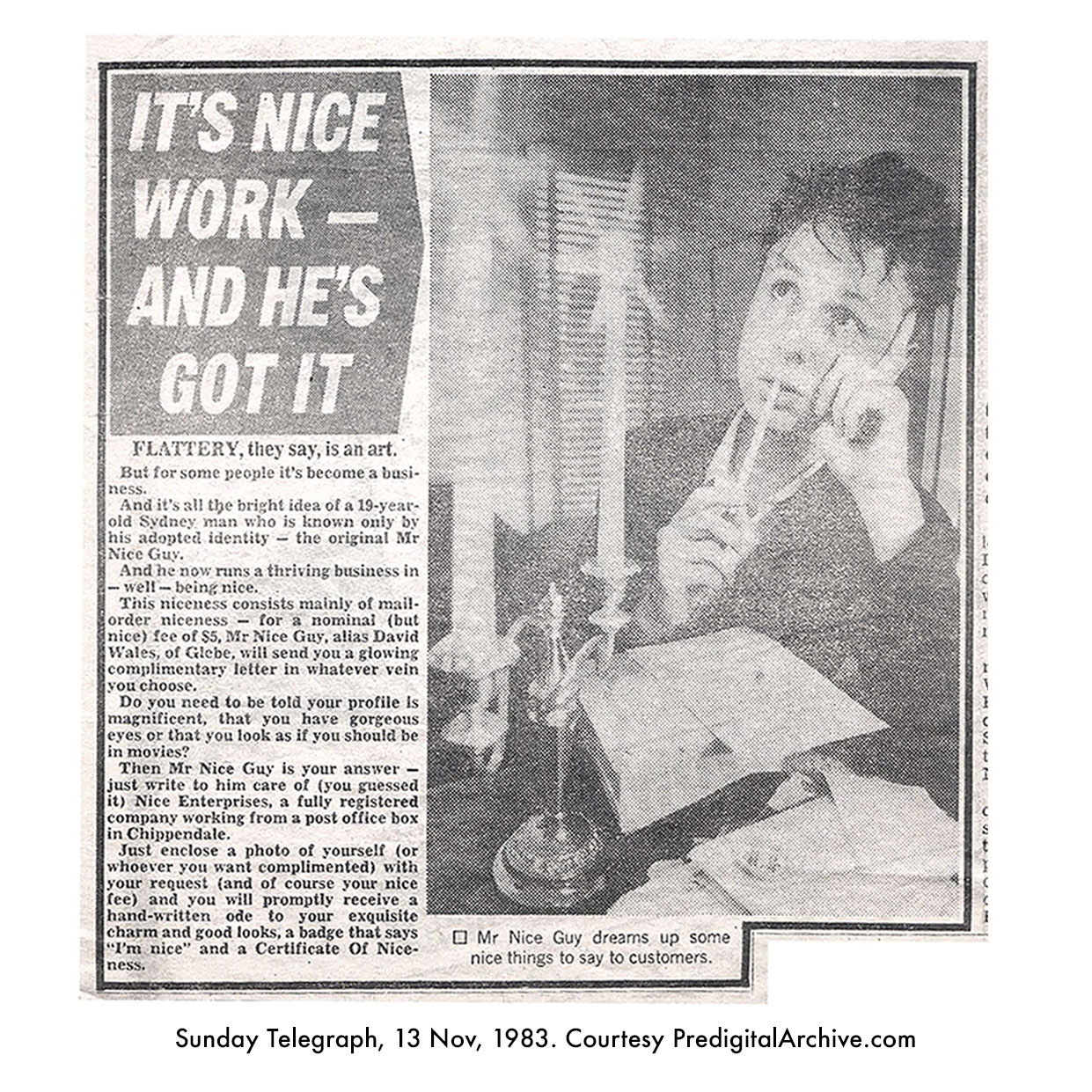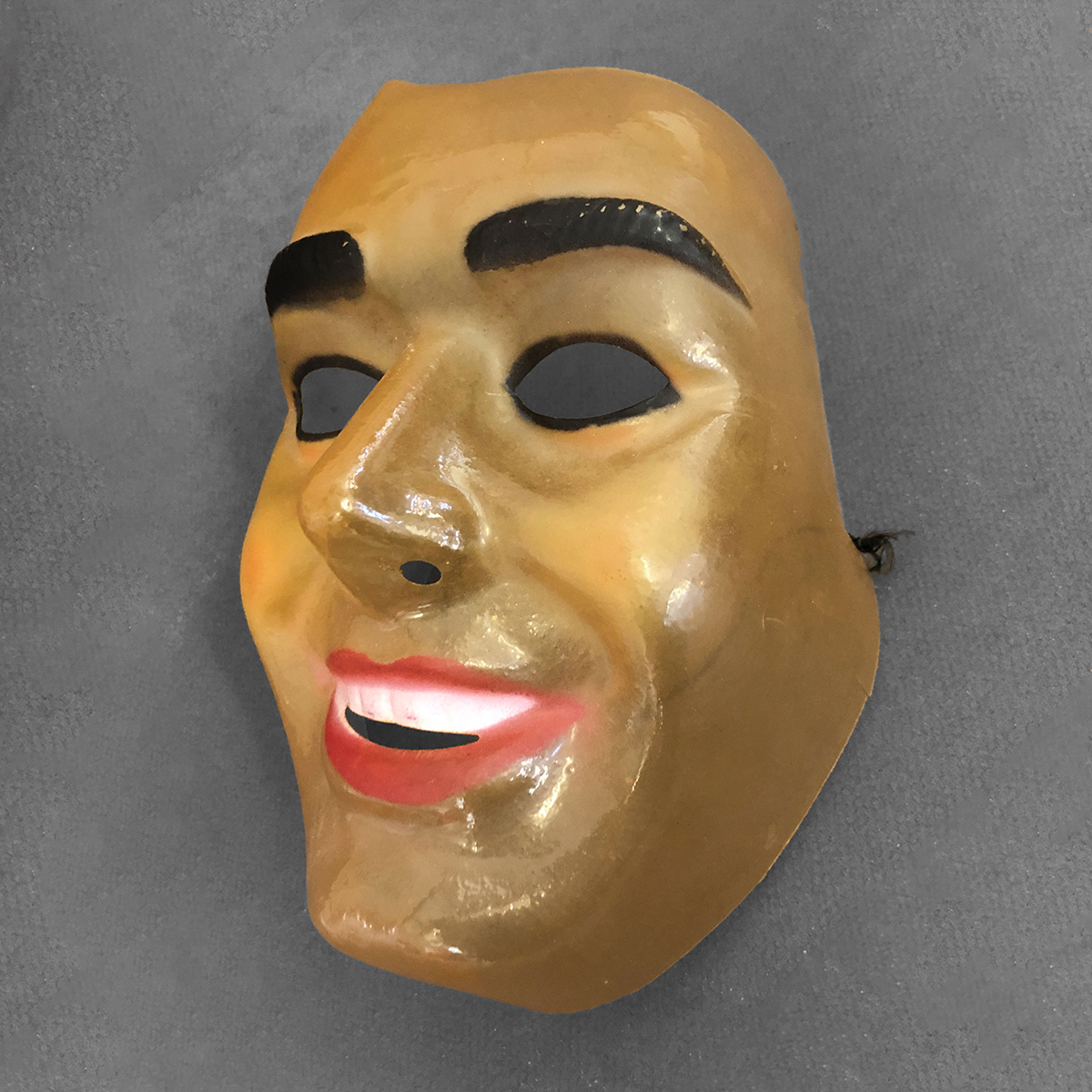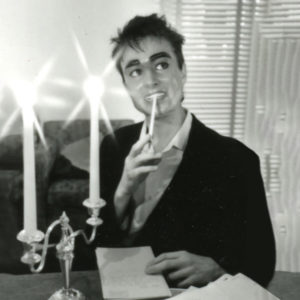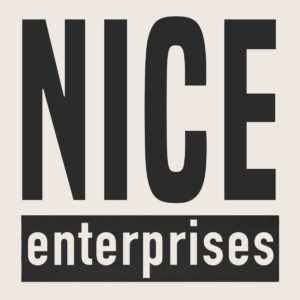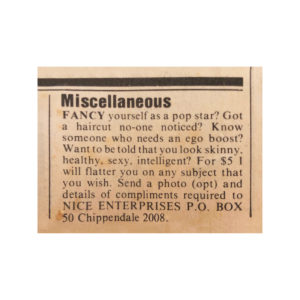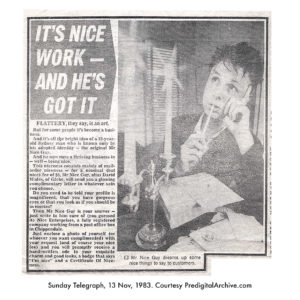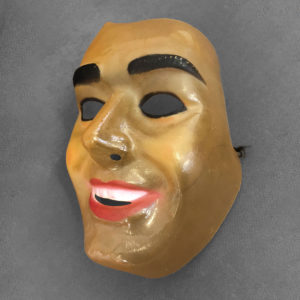 I launched Nice Enterprises in 1983 when I was 19, calling it "The world's first mail-order flattery business."
The idea was that anyone could mail me a $5 bill, along with a picture of them or someone else, and I'd write the person in the photo a letter in my best calligraphy, showering them with custom compliments. They'd also receive an official Certificate of Niceness and a sticker and button saying I'm Nice.
The first steps were renting a PO box, placing classifieds in local magazines, and faxing out a press release about Mr Niceguy, the company's mysterious founder-slash-mascot, and his goal of "Making the world a nicer place" – also Nice's motto.
To promote the project I'd don my Mr Niceguy outfit – a sparkly jacket and smiling mask – then turn up unannounced in the lobby of magazine publishers, flattering the receptionist's tie or dress and asking to see a journalist. Newsweek's security escorted me out when I wouldn't remove the mask but more often than not I'd end up being interviewed by a writer in need of distraction. When the story was picked up by Reuters I began doing interviews with not just local but European and American press, and my PO Box started filling with letters containing $5 and a photograph.
I remember doing a morning interview as Mr Niceguy with a radio station in Norway ("What a beautiful voice you have!"), then hammering out Nice letters till late afternoon when a TV crew arrived to interview Mr Niceguy for Simon Townsend's Wonderworld. The interviewer was a pop star I fancied named Edith Bliss and for some reason we shot it sitting together on my bed, all of which, coupled with my wearing the mask and flattering her throughout, felt quite surreal. 
I learned a hard lesson when The Sunday Telegraph promised not to reveal my true identity or show my face in their story. "But we'll need your real name just for our records," they said. Then, after taking endless photos of me in the mask, the photographer asked me to remove it for a final shot. When I said no he insisted he needed just one "so I can tell my boss I covered that angle." Of course they totally blew my cover. 
Soon afterward I wound the project down. Flattering people all day long had begun to feel sad and poignant. The request that did me in was from a woman who sent $5 with a photo of her friend, writing: My friend was beaten up by her boyfriend and now feels alone and scared. Please cheer her up.
I gave that letter everything I had, then lay down my nib pen and removed the mask, which sits today in a box at my Mum's house.
I've considered reviving Nice Enterprises online. I even have the URL and Instagram handle. Maybe someday.